Deborah Shadovitz' Resume
(This is the closest I come to maintaining a resume these days.)
Specialties: Macintosh computer use; using email and web; word processing
Location: Los Angeles, California; available to travel

Available for: writing (tech and general publications, corporate writing), speaking (in person or on the radio), training/teaching, or as a guest expert.
Radio
Digital Computer Talk, syndicated radio, Guest Apple/Mac Expert
appearing every three weeks
Jeff Levy on Computers on KRLA 870am, Guest Apple/Mac Expert
(formerly Computer News with Jeff Levy, KNX 1070am)
I am a regular guest of the longest running computer personality in Southern California.
Some samples:
Computer Wars — KSL News Radio — March - May, 2007
Each Friday night Michael Castner hosted as PC expert extraordinaire, Jeff Levy, and I discussed how you go about tasks on the Mac vs the PC.
A few of those segments:
Writing - non-technical
Valley Life magazine - Editor, as of May 1, 2009
I not only write now, but also am the Editor, or Editor-in-Chief and author. I actually came up with, assigned and edited; researched and wrote an entire issue of content in less than one month. My own features include: an article about Chelsy Swenson, local motocross dynamo; a feature on the Kern River Valley and white water rafting; and an interview with Amy Brenneman.
This link leads to this issue in the online viewer.
Click the button on the page to download the 11.4MB PDF.
Or right/control-click this link and choose to download.
Note: I did not create that website and do not do the magazine layout.
[Funny: When I interviewed for this, the publisher realized he had my GoLive Bible.]
Valley Life magazine - contributing writer

Beau Bridges, profile - Jan/Feb 2008
A Weekend in Laguna Beach - Sept/Oct 2007
My first non-computer writing since 1989, this is a return to travel writing.
(I wrote about visiting NYC and world travel back in the late '80s.)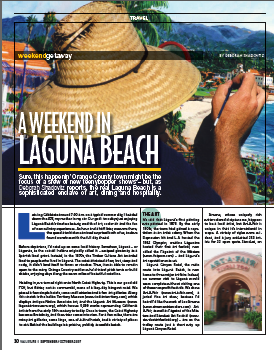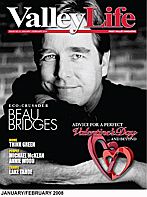 Writing About Mac & Web (Only 1993 - present shown here)
MacCreate.com - since March 2009
Several lessons under Pages, and some under iWeb and Others
Mac|Life magazine (formerly MacAddict), Contributing Editor, contributing since March 2002
~Learn: The Ins and Outs of RAM - January 2008
MacAddict magazine, Contributing Editor, since March 2002
partial listing of articles
~Sync Your Mac! - December 2005
~4th Annual Geek Quiz, (ToC) 26-31 - September 2005
~46 Bugs (and How to Squash Them), (ToC) p16-27 - August 2005
~Get Info column commentary, User Groups - October 2004
~Unlock iLife feature (ToC online) - May 2004
~Panther: Worth Every Penny (ToC online)- Jan 2004
~Be Prepared: Disk Utilities Explained (ToC online) - March 2003
~The Truth, Mac vs PC (ToC online) - December 2002
~Review of ThinkFree Office - November 2002
~Software on The Cheap (Cover online) - September 2002


Layers magazine, Columnist covering GoLive - Tutorial and Tips
Premiere issue (chose to resign from this columnist position)
O'Reilly Network, GoLive features, since March 2002
~Link Management with Adobe GoLive, 7/12/2002
~Converting Your Site To GoLive, 8/23/02
~Converting Your Site to GoLive, Part 2, 9/17/02
Mac Design magazine, Columnist covering GoLive How-to,
Tips, Q&A, From second issue until the end - January 2001 - April 2005
~Assortment online

Some of my portfolio

Binders = ComputerUser articles

The Complete Reference, Internet, 2nd edition, 2002
(Contributed the GoLive section)
Adobe Acrobat 5 Master Class book, 2003
(Contributed the GoLive section)
Adobe GoLive 5 Bible, December 2000 (Award-winning)
Author of this 1200 page book, some special contributors
MacCentral.com, Mac Efficiency 101 column, Nov 1998 - March 2001
These columns are now at MacEfficiency.com
Contributor to iMac: I Didn't Know You Could Do That, 2000
(Contributed AppleWorks info.)
ComputerUser, Contributing Editor, June 1998 - Dec 2000
One article per month. Some examples:
~ClarisWorks vs Office - July 1998
~A Few Good Utilities - August 1998
~Holiday Gift Ideas - November 1998
~Backing up's not hard to do - December 1998
~Getting the most out of any software - Oct 1999
~From digital daze to digital days: selecting a digital camera - Jan 1999
~Mac will take you where you want to go today - March 1999
AppleWorks For Dummies, Coauthored, April 1999
NewMedia magazine, feature writer, 1999
Macworld Office 98 Bible (Award-winner) , Coauthored, June 1998
ClarisWorks Office For Dummies, Coauthored, Nov 1997
Chapter contributor: My iMac Book by Andy Gore et al, April 1999 & 2000
NetProfessional: Feature writer, 1997
MacHome Journal: features & graphics, 1996
On Guard Administrator's Guide: Originated idea for this app, wrote manual.
MacDigest: Several product/book reviews over a two year period.
Lessons and user guides for clients
Writer/Editor, Lakeshore Learning Materials: Carson, CA Freelance, 9/93-12/93
Assistant editor, illustration instruction & author of teachers materials.
Speaking Engagements
MacRadio — The Mac Night Owl LIVE: The Night of Panther
Various seminars at Macworld Expo east and west for several years.
Macworld Live, broadcast from Expo show floor, January 1998 - July 2001 (event ended)
Various seminars at the annual MacFair LA 1995 - 1998
User Group presentations in various locations, covering many topics
Computer Radio - KSKA FM 91.1 in Anchorage, July 1999
Other radio shows local to LA as well
World Without Borders chats, multiple "appearances"
Other Macintosh Related Positions
Computer Solutions Coach, Since 1994
Recommend equipment and software and MacOS solutions for businesses and individuals. Train users in proper, creative, efficient use of equipment and programs. Create forms, databases, mailings and other tools. Here's a list of partial list of past and present clients:
Universal Studios: many divisions, training in basic Mac, FileMaker, Word, & Excel
Wells Fargo: training in basic Mac, & Word
FedEx: Two FileMaker databases including a National Sales Database
FatBurger: databases in AppleWorks
a Santa Monica Blvd bookstore: sales and customer database (still in use since 1994)
Khera - clothing design: all facets of Mac support
Magic Bob Weiss: website design & maintenance. I created this site 1997-1999. Interestingly, this does so well for Magic Bob that he doesn't want the updated design I offered him.
Digital Media Marketing Organization (DMMO): website design, writing & maintenance
Divorce: the musical website
MacGathering™ event, website with online registration. This is my own event. I created the event, the logo, the press releases, the FileMaker Pro databases, and the website.
Full Fashions For Less, retail clothing website (no longer up)
San Gabriel Macintosh User Group website (now done by someone else as a blog)
David W. Streets ~ Fine Art Gallery & Contemporary Art & Photography Gallery on Santa Monica Blvd in Beverly Hills. Updated David's initial design July 2009 to make the site work better for him on the web.
Barbara Lazaroff - the woman who designed Spago and a bunch of other brilliantly designed restaurant. Barbara also does home design. There's no one quite like Barbara. Now she has a site on which to share her designs, discoveries, and philanthropy.
Project Coordinator, United Jewish Appeal/Western Region
Originated and produced Great Ideas, a creative exchange to decrease redundancy and increase creative efficiency for 29 Federations.
Designed format and materials.
Handled all production.

Macintosh Instructor, Signal Hill Elementary School
Created unique family-oriented program to make the Mac a comfortable tool for parents.
Used ClarisWorks to introduce business skills; incorporated English literacy and more
Other Positions
Palm Evangelist, June-September 2003
Participating in a test program for Palm, I regularly visited Staples, Best Buy, Office Depot and Office Max as the Palm Expert to help customers learn about the various Palm Handheld devices. Placed signs in each store to let them know when I'd be there. Often arrived to find customers waiting. Wrote custom tutorials to show and teach the Macintosh user's experience with the PalmOS, posting them on this website to help potential clients and fellow program participants.


Computer sales, SOS Computers, LA
Specialized in broadcasting & graphics. Loved and sold many Amiga computers due to it's excellent ability to suit broadcasting needs. Sold the Apple IIgs to home users. Sold DOS clones, and then Macintosh computers once I realized their power.


Computer sales, Inacomp Computers, Costa Mesa
Sold Macintosh, IBM, and Compaq computers, depending upon the customers' primary needs.


Authoring, Editing, & Layout, Lakeshore Learning Materials, R&D Dept
Edited teacher's guides to ensure teachers could follow the projects with their own students.
Contributed to various projects.
Wrote guides on my own.


Substitute Teacher
Obtained at California certification (CBEST) to teach as a sub in various school districts in the Long Beach and Orange County areas. Taught all subjects and levels of public schools from kindergarten to high school psychology, specializing in art, English, and computers; was a Preferred Sub at several schools.

My favorite teaching tool were photos of my world travels. I used them to engage children to show them how the things they were learning, such as fractions, really will matter in the real world. The photos and discussions also showed them a world existed outside of their closed world and that they were welcome in it and could seek it. Happily, parents and staff told me they felt I really did help change some lives for the better.


Software Instructor/Demonstrator, Prodigy Services
Familiarized people with Prodigy's features in sales/education environments.


Program Coordinator, Syosset High School
Developed and implemented daily programs as alternative to subs.
Researched and arranged unique events and speakers.
Facilitated internships and externships.
Taught students to handle responsibilities.


Public Relations Specialist, UJA-Federation, NYC
Helped create thematic events, awards, educational programs.
Created/produced audio, video, audio-visual programs.
Set up some of these shows and other visual exhibits at the locations of events.
Scheduled and maintained equipment. Redesigned libraries, scheduling, and payment systems.
Designed recording studio.
Other Job Experience (Sales, Broadcasting)
Department Manager, A&S Department Stores, Manhasset, NY
(Managed the Santa Claus photo studio.)
Department store clerk and cashier, Fortunoff, Westbury, NY

Engineer, CBS affiliate WFSB-TV, Hartford, CT
Various freelance video production positions in New York City
(Most interesting moment: stage managing Phil Donahue for a NAPTE event.)
Printed circuit board assembly, summer job, Melville, NY
Various summer jobs working on assembly lines, in shipping, and doing secretarial and switchboard, NY



Most Unique Life Experience
Traveled much of the world for 3 years. Stayed with families. Visited schools, TV stations, and businesses. Wrote travel articles and did slide presentations. I even drew up a business plan for a Turkish boat owner/captian - on a napkin.
Prior to this, I did some other travelling such as a month in Israel/Egypt and another trip to Europe.)
You can see my entire travel section — Intro, Resources and Photos — via the menus on the left.


Education/Credential
Adobe Certified Training Provider, GoLive
(for previous versions)
Adobe Certificate Expert (ACE), GoLive
(for previous versions)

CBEST (California Teacher's Credential)
Sales certifications from and Compaq & Apple Computer
Certificate programs for video editing and computer sales/usage proficiency.
NABET (Nat'l Assoc of Broadcast Engineers & Technicians) local 15, NYC, awarded 1981
BA Communication Studies & A/V Production: State University of NY, Oswego
3rd Class Radio Broadcasting License (NYC, achieved in 10th grade)
Literary Agency
This page was last updated at 7:23 PM on Saturday, August 8, 2009