Hi. I'm Deborah Shadovitz. Friends, clients and readers call me Deb.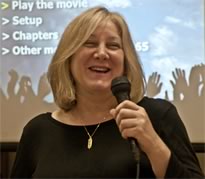 Follow @DebShadovitz
If you're interested in my travels, read my blog, Tales Of Travel And Tech
~~~~~~~~~~~~~~~~~~~~~~~~~~~~~~~~
Friends always teased, Deb's out to change the world — and I am.
I share tech skills to help people achieve by making computers easy for people.
I write about great experiences you can have, family activities, things that make lives better.
I'm an writer or author, speaker, instructor, consultant, event producer, and radio person — specializing in Mac, Internet, Web, and travel.
Note to Travel Editors and Travel Publicists
In my 20s I spent 3 years living out of a backpack, traveling the world solo because it gave me the opportunity to learn about other people's lives and cultures. In 2013 I returned from a year in Central America — parts of Yucatan, Belize, Honduras, Guatemala, El Salvador, Costa Rica and Panama — traveling out of a backpack/single bag again. However, this time I traveled with tech and continued to work as I did. For a year I've been living in various parts of Los Angeles. My next adventures will be in Texas, and then I'm off to Eastern Europe or wherever...
If you're an Editor in search of unique stories from a proven, reliable author who brings experience and wise perspectives, feel free to reach out to me. I am open to assignments — travel info, essays...
Last time I travelled like this we didn't have pagers, cell phones, and personal computers. I discuss the tech I adopt and/or discover on Computer Talk Radio weekly — and can write about or report about this experiece for you as well.
And now, some of what I do....
Radio & Public Speaking:
You can hear me on the air weekly on Computer Talk Radio if you're in one of our markets. It's a nationally syndicated radio program with computer nerd Benjamin Rockwell. (Some more about my Computer Talk Radio segments here.)
I've been speaking to groups about the Mac, websites, internet use and more for many years as well. If you need a dynamic speaker for any of these topics, lets talk, especially now as I am already traveling.
I was a Mac expert on Jeff Levy's Computer show. I also helped with segment ideas behind the scenes.
You can hear some of my radio segments on my speaker page.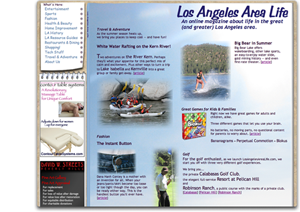 An appeal...


Please consider helping a hard working person who can use a leg up. Kiva's micro loans are the perfect way to help.
When it's repaid, you can loan it again, and again.
It´s so easy and it is exciting!
I have been giving to people in countries that I visit or plan to visit.
Editor-In-Chief and Web Designer:
I did a stint as a magazine editor (Editor-in-Chief/Assigment Editor/Author) for a Southern California-based magazine for a while in '09. It was fun, but those who saw how much I put into each article and how much info I imparted, lamented that it had both a short reach and short shelf life, so I designed LosAngelesAreaLife.com.
My columnists, contributors, and I write about all sorts of things that tie into life in the greater Los Angeles area: entertainment, get-aways, dining, entertaining, home improvement, home design, home tech, gifts, golf, gaming, fashion, and more.
Web Design and Web site Authoring:
A website isn't much help if the right people can't find it or if visitors can't quickly see what your site offers them. Frankly, I'm rather unique in that I can design a clear user interface, write clean SEO-effective code, write copy that's right for a website as opposed to any other medium, and format the pages for the best search results. If you already have a site, you can still benefit from the expertise I can provide. In the past year people have found that my tweaks have brought their sites into top positions for relevant searchs.
Freelance writing:
Because of my web expertise, I have been writing reveiws of web software. I write about other Macintosh software as well. I link to some of my Macworld magazine reviews on my author page. I'm available to write about just about anything, as long as it's a legitimate issue or product. If you need a great writer, let's talk.

Editor-in-Chief of Lifestyle Magazine:
After years of writing only about Mac and Web, I went back to a bit of travel and other writing. This is the magazine for which I did a stint as Editor in 2009. My first issues and articles:
I've been asked to have a donation button for those who'd like to thank me for something learned here or for other help I've given. So, if I've helped you and you'd like to say thank you in this way, I'd be honored.


Events:
Mac Mingle (originally Party For The People) — my Macworld Expo party. I broke the mold by creating the first free, open to all badge-holders party. People thought I was crazy when I created this party but I had faith in my fellow Mac users. The party turned out to be a huge success. (I am no longer producing this party but, happily for the Macintosh community, others copied the idea.)

MacDayLA — a one-day Mac event (on hold due to the price of gas in LA and my travels).
The MacGathering™ — a full-fledged Apple/Macintosh event. Custom-designed top-notch seminars & classes, plus unique social happenings. However, I put this Mac event on hold due to the economy/price of gas, and now my travels.
Next Speaking Gigs:
Computer Talk Radio, Syndicated
over-the-air.
Ongoing, weekly.
Info at ComputerTalkRadio.com.
Podcast version can be heard by clicking a link to the right of any show note.
OACC — Orange Apple Computer Club
Saturday, April 6, 2013
10:00 a.m.
Topic:
What I learned and how I adapted as I traveled with and without technology

Details on my Speaking schedule page.
How do contact me (updated November '12):
I no longer have a landline.
I gave up my old AT&T cell number due to roaming fees.
so...
Send me an email — my primary communication.
I am not always online as wi-fi is not everywhere, so be patient.
Via MagicJack on my iPhone I can actually receive calls at an LA number. If I am online via wi-fi or cellular data when you call, we will get to talk. If I am not, I will hear your voicemail when I am back online. If you wish to call me, please email me for the number and please include your own phone number and timezone.
Use WhatsApp. It enables me to text without having cellular service and doesn't cost a prtext or MMS messages, even internationally. It also sends voice notes, photos and video, shares contacts and shares locations, and does group chats. The app is available for iPhone, BlackBerry, Nokia, Android,and Windows Phone. (You will see people you know have it and be able to chat with them if you have their phone number, the one they register in WhatsApp, in your address book. You won´t see me on it until you have my GoogleVoice number in your address book, so you will need to email me asking me for that.) You can use WhatsApp on both wi-fi and cellular service.
Call my Google Voice mail. (Flash required.)
If you know my GV#, just dial it. If not:
Click this icon. Enter your name and phone number. The system will then call you. Speaking very clearly, leave me a detailed voice mail.
When online, I'll see your words as text and can listen to your message.
Be sure to leave your number and email address.

I also have the Vonaage Mobile App so if you have this app you can call me app to app for free - just like talking on your phone. However, you will need my Salvadorian phone number entered into your addess book to see me within this app, so contact me by email to request it.
Call me on Skype: DSShadovitz — and clearly identify yourself in your request to communicate.
Last trip I also used Voxer but I'm not sure I'll use it again, just because I have too many methods at once.
So what can you do on this website?
Get to know me through the Deborah and Travel menus on the left.
Contact me to write about travel, whether luxury or budget. I have stayed at and written about the Ritz Carlton in Laguna Beach, visited mountain lodges and written about traveling to and staying at them, and also have a unique backpack travel perspective. Not many American women travel the world alone — as I did for 3 years in the pre-email years — and now travel again.
Learn about me as a speaker. I can talk about many things tech including what comprises a great website, teach at your event, or help your company with Mac or word processing efficiency.
Invite me to write about computer use.
I write about aspects of computer use making it understandable in ways that most people don't. People say reading my books/articles is like having me standing over their shoulder explaining it.
Invite me to write about something else.
I'm flexible and I'll be honest about whether I can do a great job for you.
Contact me as an expert for your news piece or feature.
The Los Angeles Times and Los Angeles Daily News have. I've also been mentioned in Women's Day magazine. See the places I have been quoted.
Developers — contact me to check out or comment about your product.
Many vendors have benefitted from my UI reviews. I also write or advise on manuals.
Expand your Macintosh computer knowledge.
Learn about world travel or about visiting LA.
I'm proud to announce that my brother, David Shadovitz, is co-developer of Exam Professor, an online exam application that won the prestigous Adobe Site of the Day award a while back.

If you need an online quiz or test, check it out!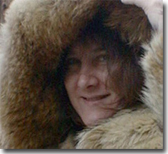 Looking for my brother, David Shadovitz,
the ColdFusion software engineer
and bicycle mechanic?
You can reach him via this link.
Looking for another Shadovitz?
Chances are, he/she is a relative,
so send me a note to forward.
Thanks for visiting
~ Deborah ("Deb")