Deborah Shadovitz on Computer Talk Radio 2011 & 2012
Please visit ComputerTalkRadio.com for the entire show, bios, show facts, and full show notes. This listing is only about my role at CTR.
Wondering how I can do Computer Talk Radio while I'm on the road living out of a backpack?
I record using my Snowflake mic.
It's a great mic, but to make it travel-able, I had friend Andre take a Dremel to it and I left the heavy metal behind.
(I might be checking out the Samson Go Mic as well.)
We record via Skype.
Either via my Mac or my iPhone. I once used Skype and my V-moda ear piece on my original iPhone, via wi-fi.
My beloved Zoom Q3HD Handy Video Recorder enables me to record audio of any kind thanks to its mic configuration and easy controls, but that's not all... this beautiful light-to-carry device also records mp4 or H264 video. I take it to CES, E3, and all trade shows. Now it'll be my memory and also record interviews as I travel. (It's powered by high speed Kingston SD cards.)
Regretfully, I had to leave my Ear Pollution headset behind, but am doing ok with good earphones.
---
November 10, 2012
While in Costa Rica, I have been using ICE prepay cellular service. The initial 3,000 colones investment for the sim card included 3,000 colones worth of service. It was a pleasure to report on the setup for the phone and internet service, and on how affordable the service is. (Over 400 texts for a dollar.)
---
November 3, 2012
October 31 was a day of promising changes at Apple so I talked about what I like about these changes and what I hope to see from them.
---
Spending most of my time experiencing new places in Central America, I have not kept up my list of topics here. However, I have continued to do a segment or two each week. Often, these segments have focused on hardware that travels well, or on software for Mac, iPad, and iPhone. I have also talked about my experiences with Ubuntu and a netbook.
---
Januay 21, 2012
I couldn't wait to talk about the amazing potential Apple's new iBook apps bring to learning!
---
Januray 14, 2012
I missed CES as I was in NYC, so you won't hear me this week.
---
January 7, 2012
Old age must have hit. I cannot recall my topic as I update this page.

---
December 24, 2011
In light of all the new MacBooks and laptops being given and received for Chanukah and Christmas, I wanted listeners to know about the Kensington ClickSafe Lock.
Also mentioned is the bag I am traveling with to protect and carry my MacBook Air, the STMJjacket Compact Carry Bag for iPad and Laptops. I know this bag via RadTech, a major distributor of STM bags.

---
December 17, 2011
I did two segments this week.
In the first, Ben and I talked about the Kensington Wi-Drive, a very slm drive that provides its own wi-fi so you can share what's on the drive with iOS and other devices.
I then spoke about the amazing Kogeto, Dot camera, which captures fully immersive 360° panoramic videos right from your iPhone 4/4S.
In the next segment, I spoke about a small, folding keyboard by Verbatim because it connects to the iPad and other portable devices via Bluetooth and comes in its own small case.
---
December 10, 2011
Because of the upcoming gift-giving season, Ben and I discussed purchasing a Mac or other laptop, and then, in a second segment spoke about tablets.
---
December 3, 2011
The Dvorak keyboard was the topic of this week's segment. I loved the results of switching to the Dvorak layout, have regretting losing the habit and hope to get back to it. As keyboards don't tend to have the Dvorak keys imprinted, and sadly, Apple doesn't, I mentioned that KB Covers comes to the rescue for us Mac folks with their selection of high quality Dvorak keyboard covers. I LOVE the design of this keyboard cover!
---
November 26, 2011
This was a true Mac-only segment. I talked about how to set up the Dock to get better benefit from it. It's not just for launching your apps!
---
November 17, 2011
Setting up my new/old Mac for travel and Ben's talk last week about older people using the web inspired this week's segment.
Safari's features for making it easier to read articles online: Reader and Reading List. Also how to add the font-sizing zoom buttons to the menu. Plus a couple of other tips.
---
November 12, 2011
I shared the results of my latest search — protection for my computer and electronics so I can enjoy the adventure of water transportation as I travel. Impressed by the facts and honest claims of Sea To Summit, I spent time talking with their Fabric Technology guy and learned enough to feel very comfortable with their products, then worked out he best way to protect my hardware. Have a listen and in 7 minutes learn what it has taken me weeks to learn.
[Listen]
---
November 5, 2011
Sharinig another lesson I've learned as I packed all my belongings and planned for travel, I have come to see the value of choosing equipment that uses standard, rather than proprietary, cables and cards.
---
October 29, 2011
In response to a listener, Benjamin and I talked about xzip files and I explained zipping and unzipping files on the Mac.
---
October 22, 2011 (Oct 19)
Live from ShowStoppers for the Digital Holidays on the 19th, I presented a 10 minute round-up of a bunch of great digital tools for life and fun. I mentioned: ZeroChroma cases, the Lifeproof waterproof iPhone 4 case, Efun's APen and NextPen Android tablet, Tripit.com for travel,and more.
(First we had a laugh over my major tech travel mess-up — leaving my "tech" back in LA when I flew out!)
[Listen]
---
October 15, 2011
I talked about the tech I finally decided to take on the road.
---
October 8, 2011
Rather than our planned topic, Benjamin Rockwell and I talked about Steve Jobs, as he'd passed away on Oct 5.
---
October 1, 2011
Ah cables... they can get the best of you. They have of me, despite my best planned packing.
---
Sept 17, 2011
Durning the heat of the Los Angeles summer I started using a new Western Digital "green" drive. It remained cool to the touch and I never heard it make a sound. So, on this day I talked about the technology behind it and shared my expeirences with it.
---
Sept 10, 2011
What to look for when you choose a laptop case. I explained the overall features I seek and why, because I want you to be aware of the issues and benefits. I mentioned three company's bags: STM (distributed by Radtech), Marware, and Timbuk2 — as good examples of some of the features.
---
August 27, 2011
Taking a turn in the Changing World segment, I talked about how Facebook helped me get back in touch with someone as an example of the power Facebook and other community media can have.
---
August 20, 2011
Screen cleaner was the topic of the week.
---
July 30, 2011
Lion — again.
---
July 23, 2011
Lion — the good, the bad, and the ugly? We talked about the new user interface and some of the changes it brought.
---
July 16, 2011
I discussed some of the precauctions you can take when using Facebook.
---
July 9, 2011
With Lion on the horizon I talked about how to get ready for it.
---
July 2, 2011
Continuing with Mac Efficiency, I spoke of the power of customizing your toolbars.
---
June 25, 2011
Going back to some of my roots, I shared some Mac Efficiency tips.
---
June 18, 2011
iOS5
---
June 11, 2011
Live from E3, the Electronic Entertainment Expo in Los Angeles, California — I shared some thoughts on games I liked. I'd actually recorded an entire second segment, a discussion about the possible connection between video games and violence, but the recording wasn't airable, so I was paraphrased by Benjamin and Benny.
---
June 7, 2011
For this E3 edition, Deborah talked about her ShowStoppers discover of G5 Entertainment's Supermarket Management, newly out and on the Mac App Store as of June 9. Then she spoke of loving the unique features of Skylanders Spyro's Adventure.
---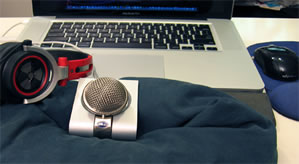 May 31, 2011
This week Deborah joined Benjamin Rockwell via Skype on her Snowflake mic and Ear Pollution headset.
She talked about Thunderbolt, the newest, incredibly fast I/O technology, created and sold by Intel. Thunderbolt is now available on the Mac (Apple's Thunderbolt page) and we expect to see it in a the next Sony Vaio as well. We also mentioned that drives are getting faster, as with OWC's SSD raid drives and that we'll talk about Seagate's new eSATA technology soon.

---
May 25, 2011:
In honor of Memorial Day, Deborah talked about how families and friends stay in touch with those far away.
---
May 14, 2011
Deborah introduced listeners to the Logitech Revue, a GoogleTV device. Deborah uses it as part of a cable-cutting strategy, using it toaccess the web and her own hard drives. Others can use it to integrate cable or satellite TV with the web. She mentioned a free app called tvMobili <http://tvmobili.com/>, that when installed on your computer (Windows/Mac/Linux) streams the multimedia from your own computer. As GoogleTV apps are developed it is expected to do more.
Listen on iTunes (link coming)
Listen at Computer Talk Radio
---
May 7, 2011
Deborah talked about cutting the cable and receiving over-the-air TV channels with the Leaf, a flat TV antenna for HD TVs. She explained that it has a 6' coaxial cable connection, requires no power adapter, and simply gets taped up on the wall behind any non-metal object. She told us how it pulls in local channels better than any other antenna she's experienced.
Listen on iTunes (link coming)
Listen at Computer Talk Radio — slide the progress bar to 23 minutes to hear Deb's segments